Consortium Statement on UK's NHS Net Zero Carbon Emissions Commitment
---
On October 1, 2020, England's National Health Service (NHS) released a plan to reach 'net zero' (i.e., carbon neutrality) by 2045. Their plan includes an interim goal of reducing the emission of heat-trapping pollution 80% by the year 2028. Through this action, NHS has become the first national health system, and first major health system of any kind, to commit to achieving carbon neutrality.
The Medical Society Consortium on Climate and Health salutes and thanks NHS for their leadership in addressing the climate crisis as a public health emergency, especially during the COVID-19 pandemic. The climate crisis and the COVID pandemic are both health emergencies of the first order, and the NHS's actions demonstrate the principles of a #HealthyRecovery (as articulated by the World Health Organization), making clear that the health sector can play a leading role in helping nations 'build back better.'
We urge all US health systems—indeed, all states legislatures and the US federal government—to emulate the NHS and immediately begin developing plans to reach net zero at the earliest possible time. America too needs a healthy recovery; charting and implementing an ambitious path to net zero is the best route to better health and sustainable prosperity for our nation and for all Americans.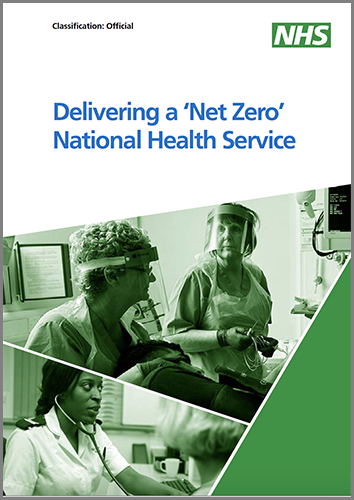 The NHS plan can be found here; we urge you to read it. We also suggest reading this article, released on October 1, 2020, in the British Medical Journal by Drs. Renee Salas, Ed Maibach, Howard Frumkin, and colleagues on charting 'a pathway to net zero for health care'.
Read NHS Report: Delivering a 'Net Zero' National Health Service